This Week in Comics Journalism-- June 5th, 2022
A look at this week's comic writing from Publisher's Weekly, Sequential, Paul Gravett, Panel Patter, Ligne Claire, The Washington Post, and Newsarama.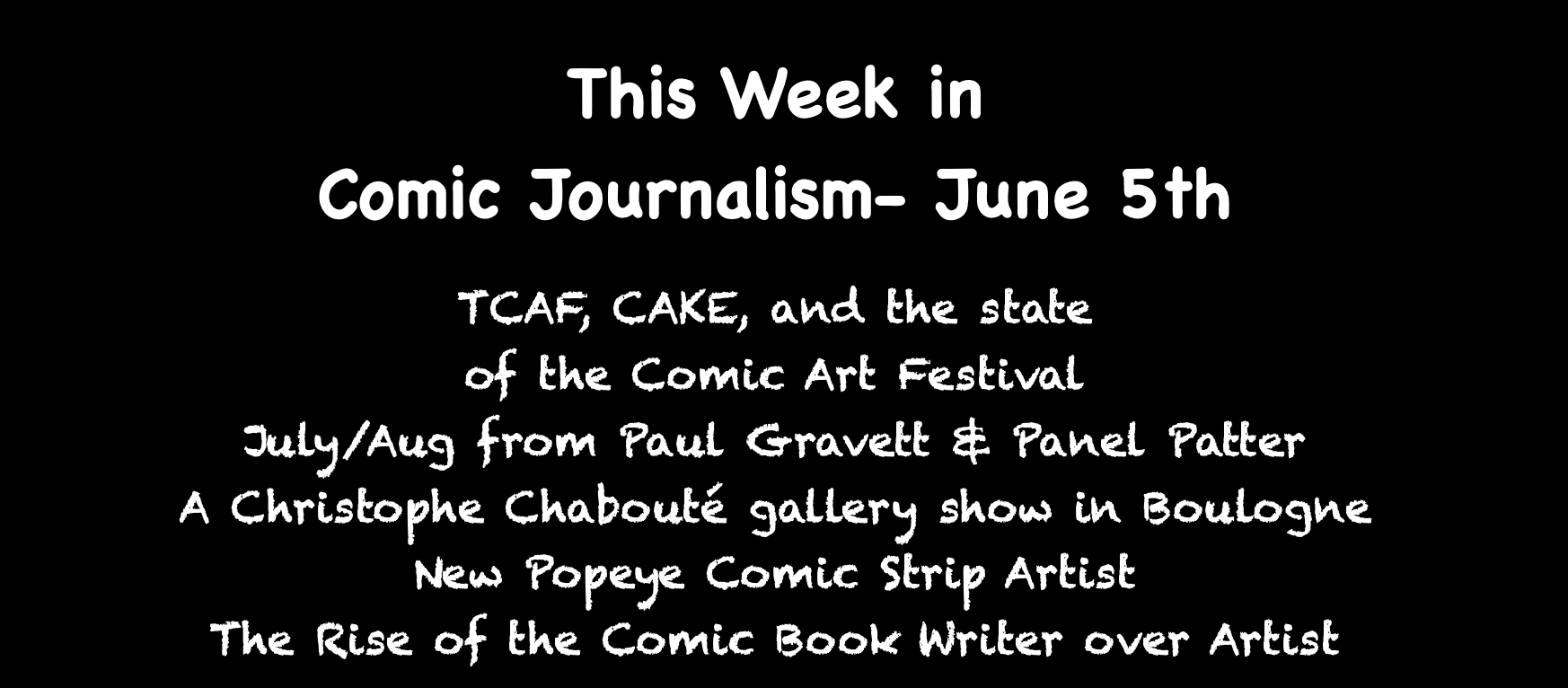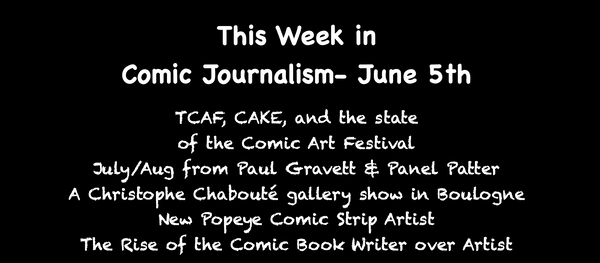 The Toronto Comics and Art Festival (TCAF) is only a week or so away, but this was a rough lead-up week.  As they were announcing their Featured Guests for this year's show, they announced Pink Cat (Saba Moell) as one of the many guests.  And then the backlash started against this NFT-supporting artist which opened the floodgate to accusations of tracing as well as harassing, racist, and transphobic posts to social media.
As we waited for a response from TCAF, Brendan Montgomery for Sequential took a look at Pink Cat and the artistic and economic/environmental problems issues with her work and what it could possibly mean for TCAF.
To keep TCAF an artist focused, safe and positive space, NFT artists should not be included and certainly not featured. If TCAF organizers were as strong supporters of artists as they always have been, then how can they justify featuring a vocal NFT supporter while NFTs damage the planet and artists?
On Tuesday, the show announced that they had rescinded their invitation to Pink Cat, citing issues with her behavior online as well as her artistic theft, but not the NFTs, which while the initial issue raised against her attendance was not the most egregious for a comics and art festival (but still bad.)
TCAF initially extended a programming invitation to Moeel on the basis of their daily digital comics work on Instagram, and the personal importance that work had to one of our team members. At the time of this invitation, the organization was unaware of Moeel's online conduct, plagiarism, or allegations of tracing. We apologize for programming and promoting this artist.  
Montgomery followed up with TCAF after their announcement, asking for clarification about their position on NFTs, receiving this reply from their board of directors:
TCAF's response to this issue was slower than twitter would have liked in part because of the adoption of less hierarchical and more consensus based decision making, but also because NFTs were not part of any of our policy documents or discussions. While I would have hoped this technology would have died the death it seems to deserve before that became necessary, it looks like we will have to come up with a policy on these too. I am not about to hazard a timeline for that but I hope everyone is realistic enough to know it isn't happening before this year's festival.
---
So how many comic-related events did you go to in 2020 and 2021?  Do you have any plans for 2022?  For Publisher's Weekly, Heidi MacDonald takes a look at the current state of Comic Festivals as well as a look at the market those kinds of smaller, more comic-focused shows support.
Comic Arts Festivals are traditionally the place to launch new cartoonists and books, and publishers told PW this was the biggest loss of not having in-person shows. "Some great authors and great graphic novels didn't get the chance to get in front of readers the way they should have," said Leigh Walton, marketing director at Top Shelf, an indie-style imprint of IDW Publishing. "But at the same time, pandemic book sales in general have really surged—if book launches have been more challenging, established names and the backlist seem to have benefited as people took the opportunity to dive into their 'I've been meaning to get that' lists."
---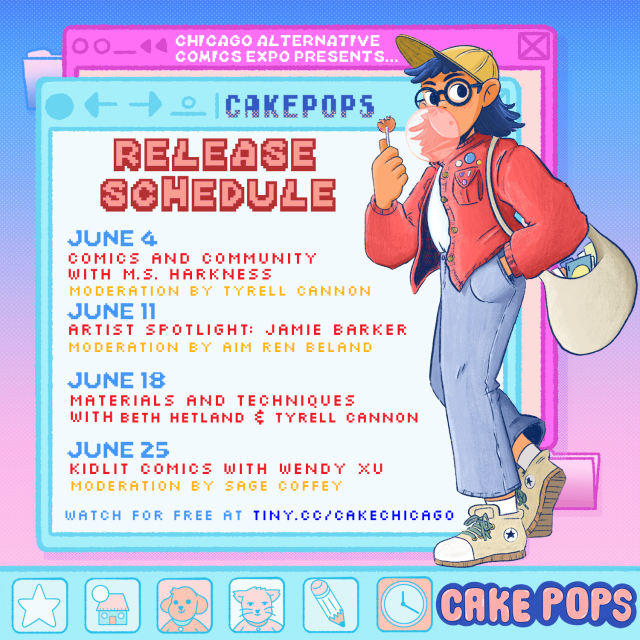 And in the final bit this week about comic festivals, Chicago's own CAKE in-person show remains on hiatus this year (hopefully next year!) but has kicked off their CAKEPOPS video series, featuring M.S. Harkness talking about comics and community.
---
Paul Gravett, comics' own man a the crossroads, takes a look at the comics, graphic novels, and manga coming out in August 2022.
August looks to be a great month, highlighted by:
Adventuregame Comics by Jason Chiga
Ducks by Kate Beaton
Poe Clan Vol. 2 by Mato Hagio
Ranx: The Complete Collection by Stefano Tamburini & Tanino Liberatore
And before we even get to August, Sean Cohea spotlights July as Hayden Sherman month for Panel Patter, noting that the artist has 3 books coming out that month.
It turns out that July is going to be quite the month for the Panel Patter favorite, and comics' dearly beloved rising superstar, Hayden Sherman. Not only do they have an original series debuting in the month of July with one of the industry's biggest names, but they also have two additional creator-owned series debuting with a couple other well-established indie writers.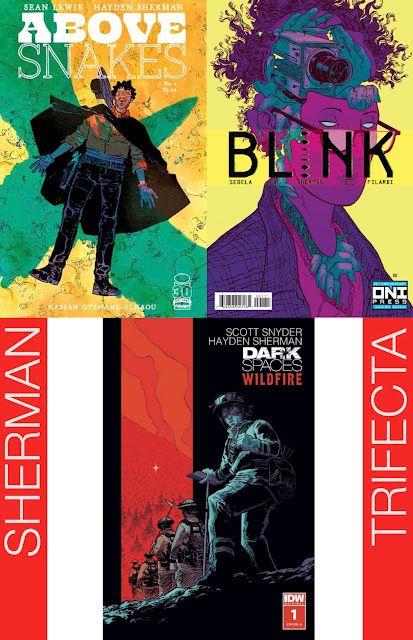 ---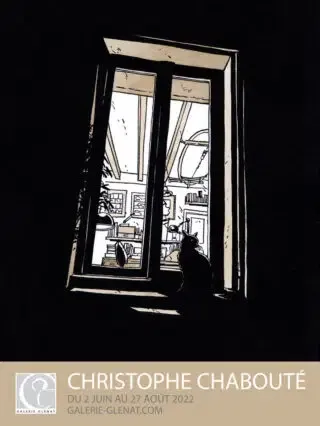 Over at the French site (use your browser's built-in translator) Ligne Claire, they have two pieces about artist Christophe Chabouté.
First up, if you're traveling to Boulogne this summer, is a look at an exhibition of his work at the Galerie Glénat, running from June 2nd to August 27.
Accompanying that article is a retrospective article about his work:
He has not talent but all the talents. Christophe Chabouté has a rare designer palette, an overflowing imagination, an imposing pencil stroke, shades of rare pictorial force. As a bonus, he has ideas, implements them and seduces, brings emotion to them. This is why, while he is exhibiting himself at Galerie Glénat in Boulogne in the summer of 2022, we went back, took out the archives, found Landru long before Moby Dick, or A few summer days before the impressive Yellow cab. From Chabouté in the text, those published in Midi Libre at the time.
(translation via Apple's Safari.)
Chabouté's work has been translated and published in English over the last couple of years and I would think a similar show here (yes, I can dream,) would be a popular show.
Or really, any kind of nice gallery show for a comic artist.
---
Following up on last week's news about Seven Seas employees attempting to unionize and that union not being voluntarily recognized by the company, Calvin Reid follows up on this piece with news that Seven Seas is calling for a union election.
In a statement emailed to PW, Seven Seas Entertainment said, "We have notified the NLRB that we are prepared to move forward with an election among an appropriate unit of employees, and we will, of course, abide by the outcome of the election."
---

There's a new artist drawing the Popeye comic strip.
Did you even know that there was a current Popeye comic strip?
For The Washington Post, Michael Cavna covers the announcement that the weekly Sunday strip will be taken over by Randy Milholland.
The cartoonist is attracted to the fact that Popeye — despite the trusty "strong to the finich" strength he derives from eating spinach —is forever "punching up," taking on large and menacing foes such as Bluto. Popeye is fallible but has long lived by his own moral code — a consistent trait that dates back to Segar's creation.
---
And finally, Newsarama publishes an interesting piece by Jim McLauchlin about how comic books have become more of a writer's medium and less of an artist's medium, exploring shifts in comic companies that go back decades to figure out how we've ended up where we currently are.  He covers some well-worn ground in this piece but raises some fascinating possibilities that are hard to figure out if they're just a symptom or if they're a full diagnosis of this issue.
Here's a great quote from Howard Chaykin in McLauchlin's piece but the emphasis here is mine:
"... since comics have evolved more into an ancillary product of IP, the powers that be—the management class, the movie-and-TV people—cannot identify what writing is in comics. They perceive the writer's job as writing, and the artist's job as illustrators. But comic book artists are—or at least should be—graphic designers in the service of narrative, pictures of narrative value, which means 'story value.' The way an artist sets up a picture is the writing of the book. The writer provides a template. And certainly in this delusional Marvel-style thing where a writer says, 'Give me a fight for five pages,' who's the writer on that? And since comic book fight scenes are external reflections of inner trauma, they are the equivalent of dance numbers or aria in ballet, opera, and musical theater, and choreography is storytelling. You see my point."
"The way an artist sets up a picture is the writing of the book."  This reminds me of the #artcred debate that Declan Shalvey tried to have on Twitter a couple of years ago. But this is a conversation that we need to continue to have in comic circles, to truly understand what comics are as a synthesis of different art forms.