This Week in Comics Journalism- July 9, 2022
A look at recent news in comics, including the passing of critic R.C. Harvey, a Steve Dillon retrospective, the original art collection of David Mandel, and problems calling characters "crazy."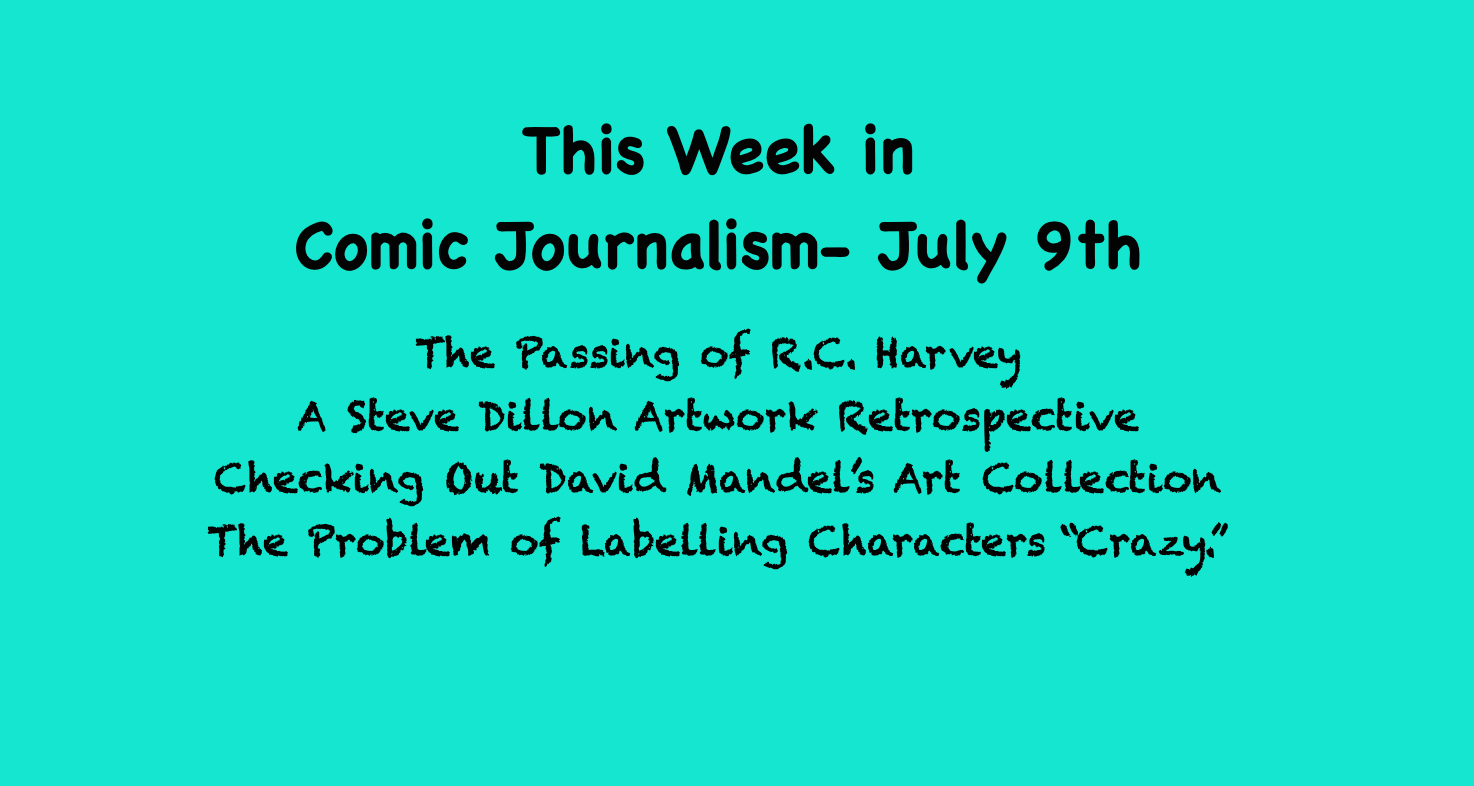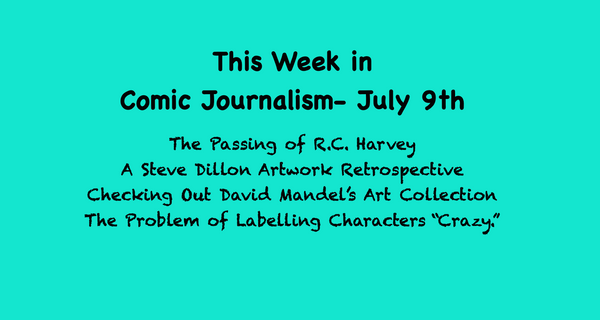 Just as I was planning out this column, The Comics Journal tweeted that critic and cartoonist R.C. Harvey had passed away.
Harvey's was probably one of the first names I really recognized in The Comics Journal behind Gary Groth's and Kim Thompson's.  I'm sure that TCJ will have more on Harvey in the next week.  His bio page on the TCJ website, written by him, is a great place to start diving into his work.  And it also contains links to his writing for the site, going back to  2011.  Looking through his articles on the site (let alone everything in the actual pages of TCJ,) you can see his love of great cartooning.
I'm not too sure why but it tickles me that in his self-penned bio blurb, the last accomplishment he notes is a merit certificate that he got in high school.  
In addition to being the All-Navy Cartoonist in 1960, Harvey has been awarded the Association of American Editorial Cartoonists' Ink Bottle Award "in recognition of dedicated service to the Association and distinguished efforts to promote the art of editorial cartooning," 2013; and the San Diego Comic-Con International Inkpot Award "for achievement in comic arts," 2018. And when he was a senior in high school, he won a Certificate of Merit for Achievement in Cartooning Art from Scholastic Magazines.
---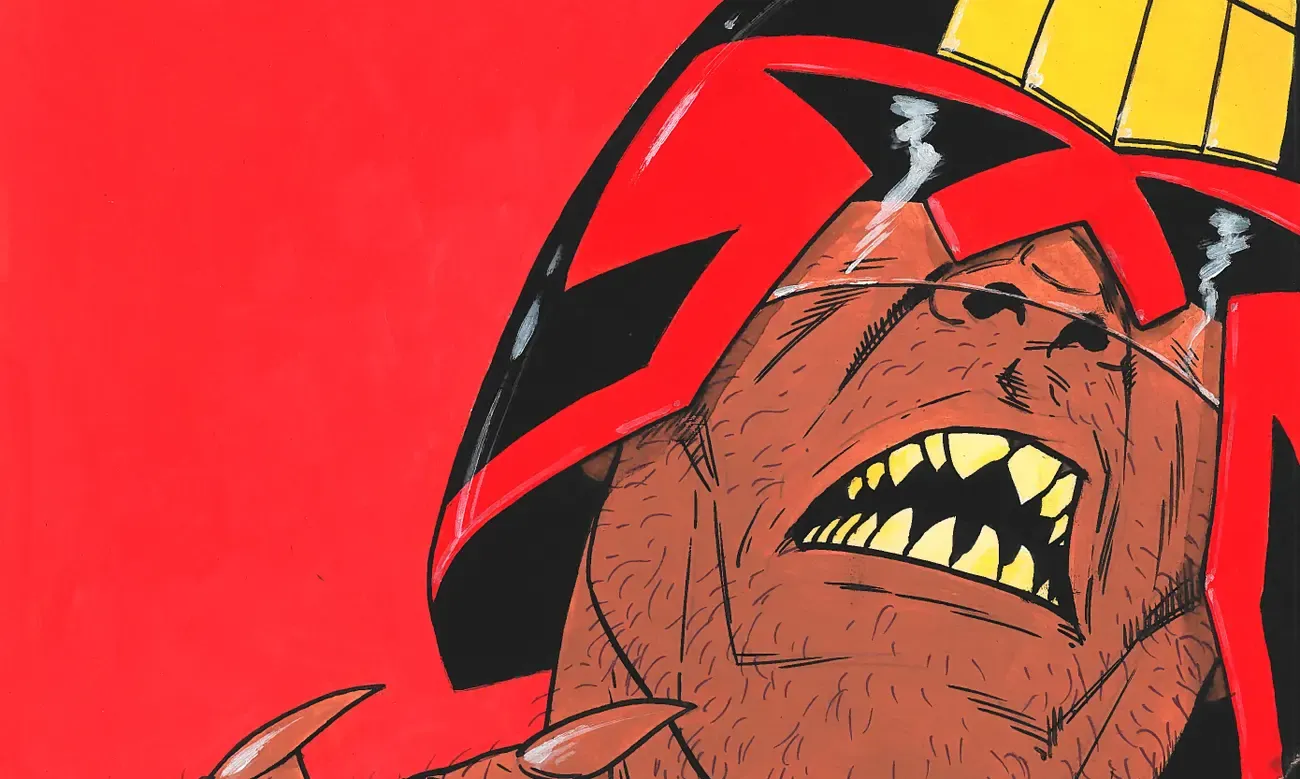 At The Guardian, David Barnett has a piece up looking at the artwork of Steve Dillon, related to an exhibit of his work that was running in his adopted home town of Luton.
"Steve has a special place in this town," says Samuel Javid, creative director at the Culture Trust Luton. "We have roads called Preacher Close and Cassidy Close, some of his ashes are buried here, and his local pub has a picture of him behind the bar, sticking his middle finger up … "
Sounds like a bar I want to visit sometime.
Although Dillon was at home with the exaggerated macho heroes beloved of the genre (his Judge Dredd and Punisher depictions bristle with guns and ultraviolence), he also brought a more grassroots, individual look to his characters; he was renowned for drawing the type of people you might see in the pub. [Alan] Moore once wrote that if you shaved the heads of every female Marvel character they would be almost identical. Dillon, however, put as much care into the expressions and looks of his characters as he did the dynamic, detailed panels of his narratives.
I honestly don't know if Ennis and Dillon's Preacher works at all without Dillon drawing it.  Thinking back on it (I haven't read the whole thing in years,) there's a cynical toughness to it that works because Dillon brought the characters to life, showing that toughness but giving the characters a vulnerability as well.  '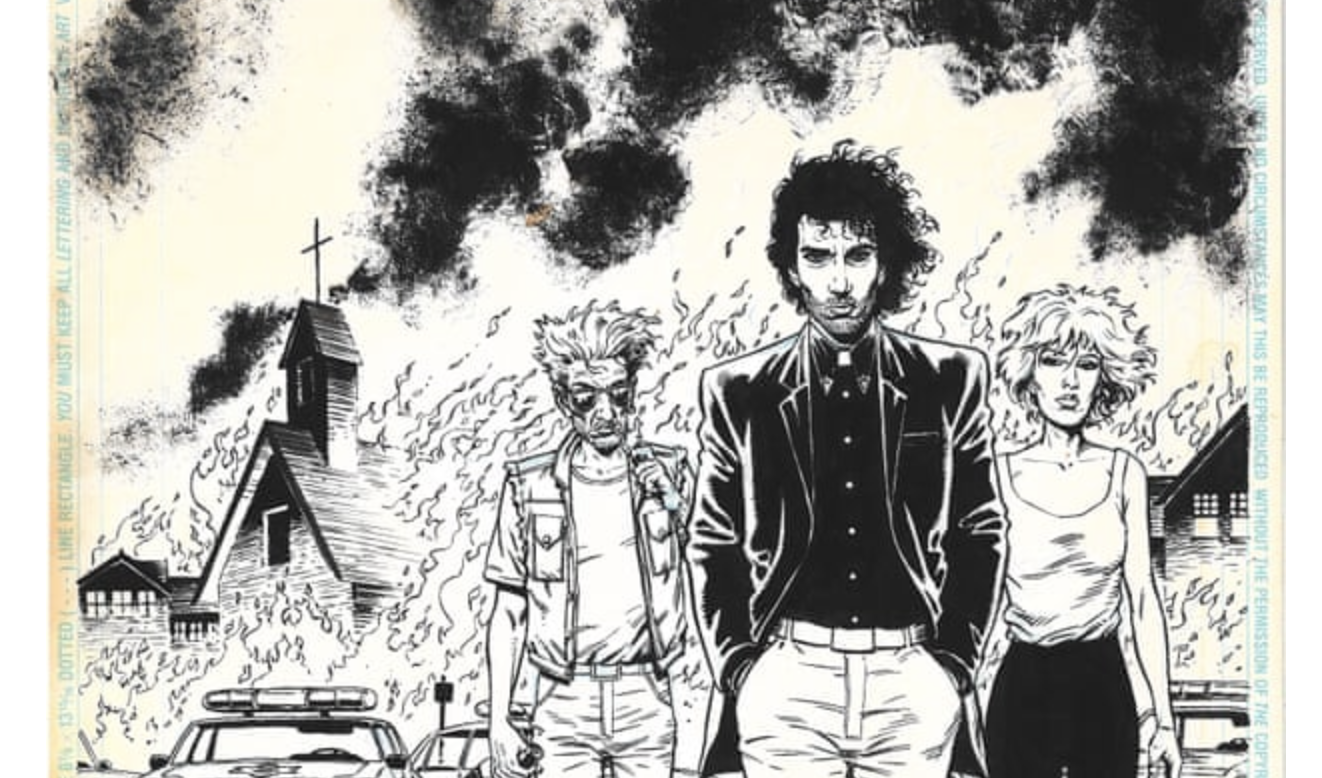 ---
I've always heard that David Mandel (Veep, Saturday Night Live, Seinfeld) was a big original art collector but I guess I never realized just how big until this 100th episode of Bill Cox's Comic Art Live show.  There were pieces in here that I was just stunned to see and to realize were actually in one person's collection.  And Mandel's a pretty good storyteller so this was a fun spin through what sounds like just a portion of his collection.
Original artwork collecting is a fascinating aspect of comics and I've just been diving into Cox's Youtube channel, which is a mix of commerce and just generally geeking out over the original artwork market. I've only ever dabbled in it but it seems like this whole other thing that's part of comics but also adjacent to them.
---
This final link may also be a bit more comic adjacent but Game Rant's Joshua Kristian McCoy has a thoughtful piece that explores the problem of calling comic book characters "crazy."  He explores more the use of those characters in TV and Film but their base characteristics are lifted from comics.
How many supervillains on the comic book page or in their big-screen adaptations are motivated, explained, or empowered by "criminal insanity"? These characters, in one form or another, are a staple of comic books and the art they inspire, but almost every version of neurodivergence in the medium is full of holes.
And later in the piece:
Neurodivergent people are assumed violent in a variety of situations, despite the scientific fact that they are far more likely to be the victim of violence than the perpetrator. There is a massive infrastructural problem surrounding the treatment of neurodivergent people and the overwhelming likelihood that they'll be jailed for their different abilities. Superhero media simultaneously reinforces and is reinforced by this problem. It's a vicious circle. People think neurodivergent people are violent because that's what they see in media, so it becomes an easy shorthand for villainy.