From Cover to Cover's Favorite Comics of 2021
Here are our favorites from 2021, a year that saw a lot of great books.Please know this post serves to celebrate our favorites, and while we read a bunch, we certainly don't read everything. Really, there's just too much out there.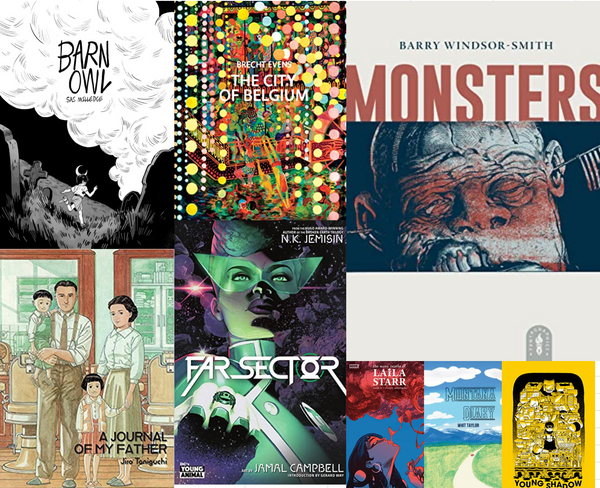 We may still be in our infancy as a site, but that doesn't mean we've just started reading. Here are our favorites from 2021, a year that saw a lot of great books.Please know this post serves to celebrate our favorites, and while we read a bunch, we certainly don't read everything. Really, there's just too much out there.  Looking at a bunch of other Best of 2021 lists on other sites, we see books that we just didn't have the time to read, books that we didn't know existed, and good books that just didn't make our list.  
The great thing about comics is that there's just so many of them that there's always something new to read.  
There is no order to this list besides the alphabetical.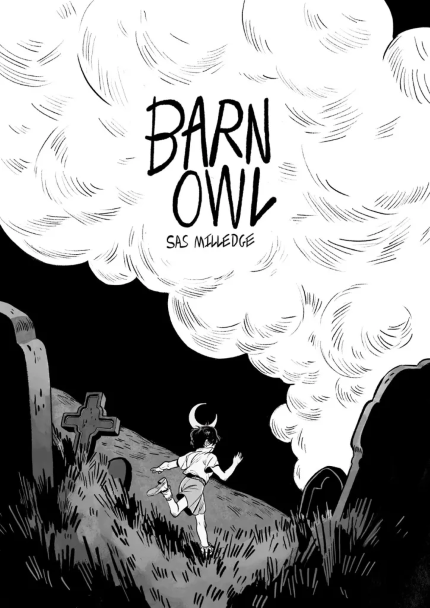 Barn Owl by Sas Milledge. Shortbox Comic Fair
It's usually easy to complain that comics are too long, that they stretch out the unnecessary at the expense of the things that actually matter. Barn Owl is probably perfect at its length, but it's hard to believe Milledge was able to fit this entire story into essentially a single issue-length book. Milledge's style embraces shades with exceptional results, but it is her story-telling that makes Barn Owl one of this year's best.  (MB)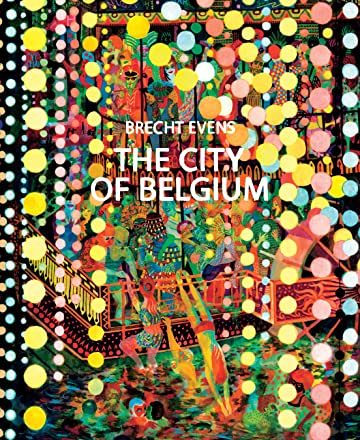 The City of Belgium by Brecht Evens. Drawn & Quarterly.
Evens' book tells the story of three individuals during one night in Belgium whose paths cross in a colorful and exciting nightclub.  One is spending his last night in Belgium, leaving for Germany and his wife in the morning.  Another is a conflicted man, trying to find a connection to someone or something in this crazy town.  The last is a woman, protected by her sister and friends, but wanting to escape that protection.  Evens tells these three distinct stories that barely interact with each other but find the three people at similar intersections of their lives, trying to figure out who they want to be after this night out.
Each page of The City of Belgium is a work of art, filled with shapes and colors that capture the cacophony of this night.  The art is exciting, it's dangerous, it's seductive, and it's terrifying.  You experience the transformations that these people experience in themselves and their settings like you're part of it, sitting at the table next to these people and experiencing the same sights, sounds, smells, and tastes as they are. (SC)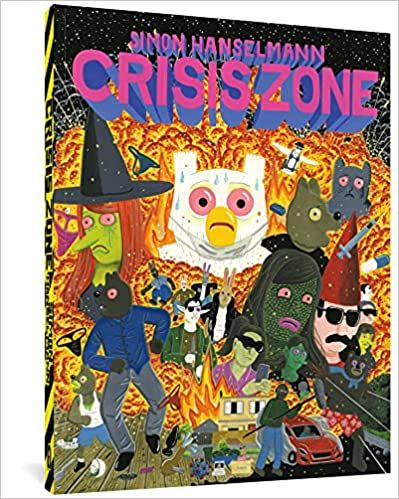 Crisis Zone by Simon Hanselmann. Fantagraphics
In 2020, I had to read a bunch of Covid-19 comics for various reasons.  So many comics about self-isolation, Tiger King, protests, and just general boredom with being stuck at home that I had to cut most of these kinds of comics out of my regular reading diet in 2021.  And then for some reason at the beginning of December, I got a copy of Simon Hanselmann's Crisis Zone and suddenly all of those other Covid comics became obsolete because Hanselmann said everything about 2020 that needed to be set in such vulgar, obscene, and humane ways.  I finished this one just before Christmas and am still processing so much of it.  I've never been able to get into Hanselmann before but Crisis Zone just so effortlessly captures a zeitgeist that we're still trapped in even as we prepare for 2022.  So much of this book is so specific to 2020 but it's also a rich and disgusting dive into our collective headspace that we're still dealing with. (SC)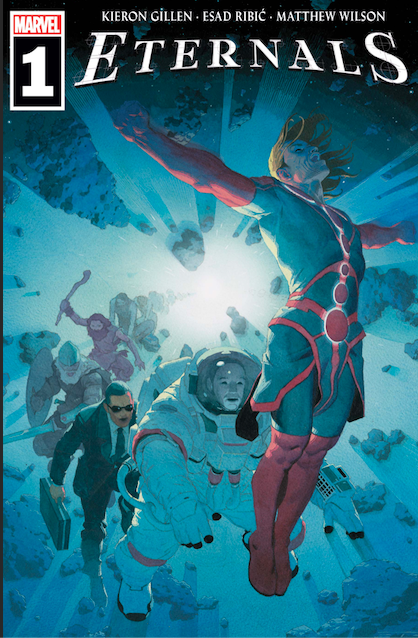 Eternals #1-8 by Kieron Gillen and Esad Ribic. Marvel
I don't know if I've ever found the Eternals interesting, maybe other than Sersi's time as an Avenger.  Coming late in Jack Kirby's career, this always seemed like another tossed-off idea of his, exploring themes of godhood that he had many times before.  Gillen and Ribic's take on this cast, trying to explore the ramifications of their eternal lives, gives Icarus, Sersi, Sprite, and Thena a narrative purpose, they have something to fight for and to atone for.  That need for atonement is at the heart of Eternals, including the couple of one-shot specials that expand the scope of the story.
Gillen has played with similar themes before, exploring these characters who place themselves above us and he continues to show his natural skepticism of them.  It's not that he doesn't like (or even love) these characters but he's suspicious of their lofty sense of self, where they think themselves gods and goddesses.  Ribic's artwork is all about the characters' godhood but he also has this way of bringing these characters down to earth, showing them completely not understanding the secrets that they're learning about their past. (SC)
Scott wrote about Eternals here.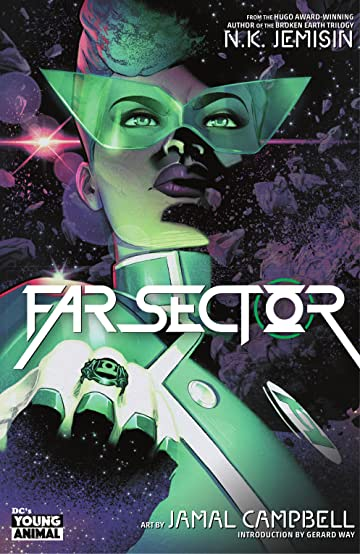 Far Sector by N.K. Jemisin and Jamal Campbell. DC Comics
Far Sector didn't need to be a Green Lantern book. Jemisin and Campbell create a worthy space opera detective story that clearly stands on its own, but connecting it to the DC Universe gives it a certain sense of permanence. Campbell's art is beautiful and lush, but it is the way he finds subtlety via characterization despite his bright cinematic style that makes his art land so well. Part of the fun of this book is watching the established novelist Jemisin progress as a comic writer. By the end, twelve issues aren't nearly enough. (MB)
Mike and Scott wrote about Far Sector here.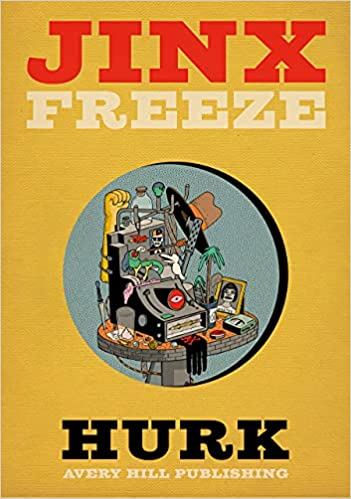 Jinz Freeze by Hurk. Avery Hill
Hurk's graphic novel is a distillation of all things surreal, a pop art combination of Dali, vintage Mad magazine, and Gary Panter all filtered through a psychotic version of the classic Saturday morning cartoon. (MB)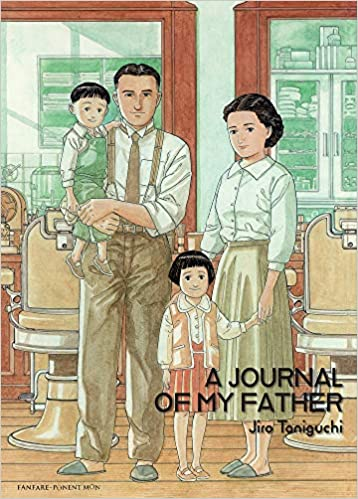 A Journal of my Father by Jiro Taniguchi. Ponent Mon
Jiro Taniguchi's tale of mourning and reconciliation showed how different life in Japan in the 1950s and 1960s is to our own today but also just how similar it is. This story about a son reflecting on his father's life and death exposes us to a different culture and traditions even while Taniguchi concentrates on the emotions and turmoil that Yoichi feels over the unresolved relationship with his father.  The settings of this story may feel outside of us but the heart and soul of this book are truly universal, giving us the opportunity to grieve alongside these characters and this creator in this loosely autobiographical story. (SC)
Scott wrote about A Journal of My Father for Panel Patter.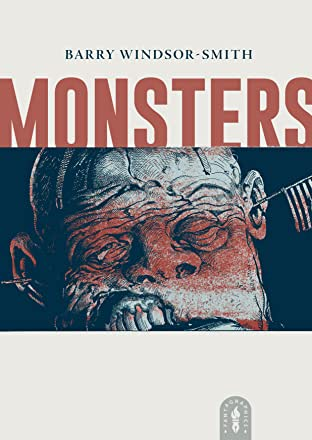 Monsters by Barry Windsor-Smith. Fantagraphics.
Monsters represents something familiar and also something entirely avant-garde. Few creators have made the pilgrimage from mainstream comics to the kind of gritty world Windsor-Smith creates for Monsters. This book is brutal, you've surely read. It's challenging in both its narrative structure and its visual detail. But that is the heart of it all. At its heart, Monsters is about the systematic destruction of a man, and the fallout of that resonates long after the cover is closed. (MB)
Scott wrote about Monsters for Newsarama.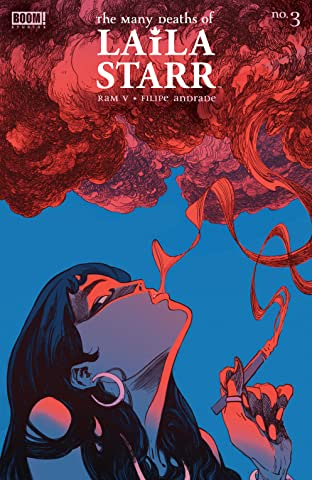 The Many Deaths of Laila Starr by Ram V, Filipe Andrade, and Andworld. BOOM! Studios
Ram V is writing the best mainstream comics right now, and we easily could have included The Swamp Thing, Catwoman, or Justice League Dark here. But it is Laila Starr that best speaks to his depth as a writer. Possibly a philosophical sequel to Grafity's Wall, it is an intricate meditation on both the value of life and the role of guilt in daily lives. Filipe Andrade's art is atmospheric, beautifully subtle - just wavy enough, just edged enough. (MB)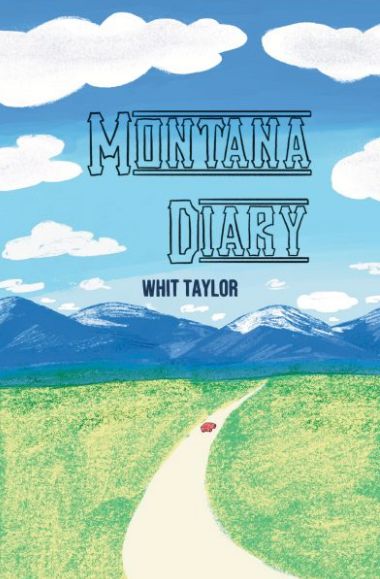 Montana Diary by Whit Taylor. Silver Sprocket
Whit Taylor's mini comic about a trip to Montana gives us her unique view of where we are at this moment in time.  She presents her reminiscences of traveling with her white husband and still having to deal with the history of the places that she's visiting as well as the current attitudes and racism that she has to deal with.  Taylor has this fantastic way of taking her specific experience and turning it into something that we all get to be part of through her work.  She takes the specific and turns it into something universal.  Or, if not universal, at least something that we can be a part of as we see it through her eyes.
Taylor's voice in her comics shows a cartoonist who is trying to process what's happening around her while, at the same time, trying to show us what her life is like.  It's a short comic but Montana Diary is the story of a black woman in a mixed marriage traveling parts of the country who maybe aren't quite too sure what to do with that.  There's a passive-aggressive (to say the least) racism and sexism that she explores in this comic that she has a unique view of which she needs to show to us. (SC)
Scott wrote about Montana Diary for Panel Patter.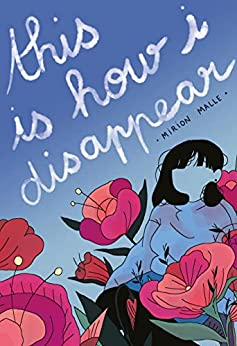 This is How I Disappear by Mirion Malle; translated by Aleshia Jensen & Bronwyn Haslam. Drawn and Quarterly
Both comforting and unnerving in its ability to capture broken humanity, Mirion Malle's graphic novel of trauma and depression captures the knowing despair of retreat. Malle's exceptional approach cuts no corners. She even seems to eschew rulers. It is deliberately raw, replete with roughly drawn iPhone screens and dialogue that expertly captures awkward speech, all capped off with a denouement so graceful it will make you blush. (MB)
Scott wrote about This Is How I Disappear here.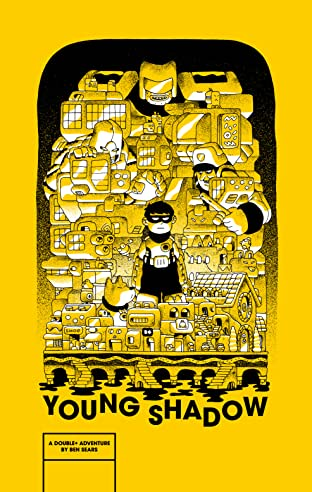 Young Shadow by Ben Spears. Fantagraphics
Arguably the best Batman book of the year, Sears has a knack for creating an engaging world and fully formed characters without slogging through endless exposition. Shadow is appropriately self-righteous in a charming way. Everything about this book feels natural; nothing feels contrived, no part of the narrative or the characterization feels strained. (MB)